Skip to content
Jonathan Howe, Leonhard van Voorst,
Of Authenticity, Ambition and Natural Creativity
The musicians and sound designers of Tumult Kollektiv strive for a wholesome, mature auditive experience in games. They practice what they preach because this is exactly what they give you in this podcast, talking about the need to create, what it means to truly work in a collective and the importance of trust and freedom when bringing good music to life.
Jonathan Howe
Co-Founder of Tumult Kollektiv
Jonathan Howe, co-founder of Tumult Kollektiv, is a composer and sound designer for videogames. Since finishing his music studies in the Netherlands, he has worked on a breadth of games such as Horizon Forbidden West, Pine, Destruction AllStars and more. Jonathan loves technical sound design, building music and audio systems in collaboration with the designers, and writing rich, melodic music for the collective.
His personal work under the alias 'Maramono' combines textural and gloomy explorations with fast-paced synth patterns and his playful and jumpy melodic sensibilities, creating a rich and unpredictable collage of sound.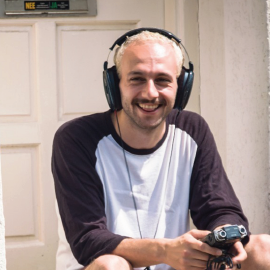 Leonhard van Voorst
Co-Founder of Tumult Kollektiv
Leonhard van Voorst is a composer, sound designer and artist who, as part of the game.audio company Tumult Kollektiv, provides immersive sound worlds for games and moving image. Merging his own artistic developments with experiences from projects like Assasin's Creed Valhalla and Borderlands 3 to strengthen a new scene in music for games with a fresh elequent sound.